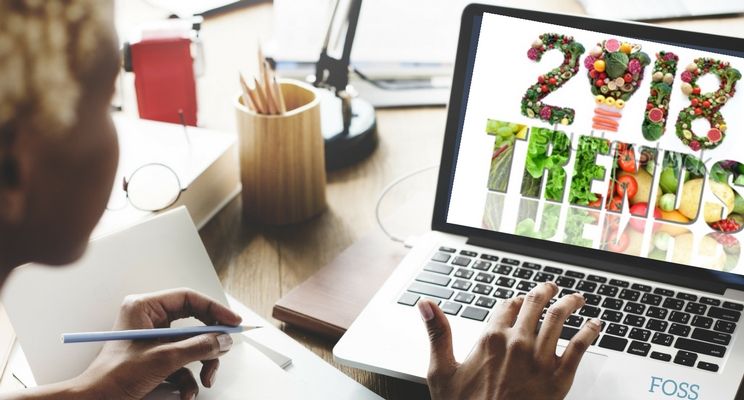 Welcome to Good Stuff — a new place for you to find food goodness. Whether you are one of our fabulous suppliers, customers, partners or foodies, to us you are a FOSS (Friend of Soft Stuff). One way we can thank you is to share more of what we know, see, think and love with you. 
We'll keep it simple and easy and pepper it with the insights that we hope you find inspiring and thoughtful. We know you are on the go, so let's get to it. 
Unique and nuanced foods are more popular than ever. You need to consider and appeal to more food palettes than ever. Food trends guide your menus, product mix, and ultimately, engage your customers by creating just the right food experience for them. 2018 is no exception, and the trends may be more intriguing than ever.
From plant-based to functional beverages, to smaller, single-serving options and seeds & nuts everywhere, your customers and guests are looking to you to provide the deliciousness, wherever you are serving them. Building a creative, profitable food mix is so very doable.
Trends Soft Stuff LOVES for 2018 -
Plant-based foods are more readily available than ever. How about cauliflower pizza; your favorite vegetable, right? Pack a punch of goodness with cauliflower crust pizza. It's sure to be the rage this year. That's just one example of taking a vegetable and reinventing it into pure goodness for your customers.
Serving up some bubbly just got better. The days of offering water, soda or juice are long behind us. Today, nut milk, probiotic drinks, and Kombucha are pouring into the market along with coconut waters, pea-protein milk, seltzer, cold brewed coffee and more. Flavor and hydration are two ways to help your customers quench their thirst and be healthy.
Asian and Middle Eastern flavors and foods will continue to delight and further attract new fans with new combinations of these two classic cuisines. Whole wheat dim-sum (dumplings, sui mei, spring rolls), noodles and wrappers make great Asian appetizers, and hors-d'oeuvres will delight customers and guests at a food truck or an elegant black-tie wedding.
Antioxidants are powering up with more than one "super powders" (A play on super powers? I think so) playing a role. From Turmeric and Cinnamon to Matcha and Cacao, you'll elevate the taste, benefits, and transparency in no time.
Speaking of transparency, that's another trend. Everyone wants to know and more importantly, understand the list of ingredients. Our food partners are passionate about this too and want your customers to know they are using the finest ingredients and making delicious and healthy foods.
These are just a few of the food trends we know you're embracing this year. There's a phrase I've been thinking about the last few months, "NEXT IS NOW." Our customers and guests are prompting us to change faster than we may like. They may seem fickle and always evolving. They are, and that's okay. Giving them what they ask for makes good business sense with proper planning, the right partners, and smart strategies. I hope you know we're always here to have those conversations with you.
If you want to dive into some more 2018 Food Trends, here are a couple of good articles:
Local Chefs Predict Local Food Trends
Whole Foods Food Trends for 2018
A Dietitian's Picks for the Top Food Trends of 2018
Don't forget to check out our full line catalog, accessible on our website.
About Soft Stuff
Everyday, Soft Stuff Distributors connects savory specialty foods, soups, desserts, pastries and baked goods with Mid-Atlantic hotels, restaurants, conference centers, and universities. Our consistent recognition for high-quality delivery has earned our company a 99.2% Quality Assurance Rating from Avendra  — one of the most respected names in the hospitality industry.
We understand how important our performance is for your business  — and your customers.
For our 2500+ customers, we strive to ensure that every order is accurate and exceeds your expectations.